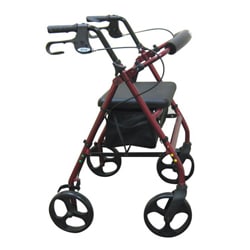 I've had a lot going on, of the non-lipedema variety, and didn't feel moved to keep posting "yep, legs still fat," so I've let this blog languish for a bit. So, an update:
I'm still living in a building with an indoor pool, and have benefited a lot from it, both in terms of exercise and in new friendships with some really nice fellow pool users. I made a brief foray back into office work last year, hated it and quit after two months. I'm now working from home — I have two part-time jobs in tech writing and Web development — and pursuing a very long-drawn-out master's degree in computer science.
And I still have lipedema. I had just started treatment at the local lymphedema center in the late fall of 2011 when my sister went into the coma that ended with her death. In the midst of all that I didn't have the focus or the will to take on a lot of treatment for myself. For the past several months I've been plagued with recurring wounds on my left leg, and have twice been hospitalized for cellulitis, once last August and once last weekend.
The hospital visits happen when the infection goes systemic and sends me into a fever, and it can happen very suddenly. Last Friday I got up, worked out, went to work, and was working happily away, then suddenly I felt sick and sicker. (Unfortunately I was also pretty unpleasant to the other person in my apartment at the time!) I wound up in an ambulance and then the ER.
As often happens, I encountered medical professionals who did not know about lipedema, and even when I am really unwell I try to marshal my thoughts and give them enough of a rundown that they can look it up, maybe even find this blog. On my last day, during the interminable wait for my discharge (why can't they say "hey, it's 9 a.m., off you go"?), I got to talk with a group of nursing students who were eager for information, happy to be dealing with a patient who was alert and able to talk about her condition, and willing to let them practice taking vitals and doing assessments. I, ahem, have never been called shy, so I enjoyed the attention and I hope I provided some information that will help them help other people down the line.
I did get an interesting clue from an eagle-eyed physician's assistant: She spotted a very mild case of athlete's foot (http://www NULL.mayoclinic NULL.com/health/athletes-foot/DS00317) (a form of yeast infection) in my toes and suggested it might have been the vector for the infection to get into the leg in the first place. So I am using a special cream now, while I'm on antibiotics, and am going to take more precautions to protect my feet in and around the pool area, including drying my toes with a hair dryer. (Heaven knows I don't use it on my hair!)
All of this is occurring at a time when it's becoming clear that I need to bite the bullet and make further concessions to my disability. I now have a seat in my shower, and a walker that I use on trips outside my building. I don't love this part — especially the walker. In my head I'm this vital, intelligent, sexy woman of a certain age, but in reality I'm fat and disabled and have to use this rather grandmotherly device to get around. It's part of the reason I had my hair colored bright red. I may not be gorgeous but I don't have to be boring.
I've been building up to this for a while — I've used a handicapped placard in my car, I've apologetically declined to do things that involve a lot of standing, and I have had some really awesome people help me rearrange my apartment so that the things I need are more easily reachable. But this may be regarded as my "coming out" as a disabled person. I'll probably be posting more about that as I get past the mere fact of having to make the change.